As you may have heard before in regards to SEO: content is king. While this may not be as true today as it was a year or two ago, content still plays a huge factor in your websites search engine rankings. But it's not just the content that matters, it's what you do with those words, from marketing to keyword placement. It's easy to get caught up in just trying to get something on the web page for launch time that simple things get overlooked. These little mistakes could be what's standing between your brand and page 1.
Mistake #1. Believing That If You Build It, They Will Come
A lot of people subscribe to the "set it and forget it" method when it comes to content creation. What I mean by that is you've implemented an appropriate H1 tag, hit a smooth 1,200 word count, and added categories to your blog, and then hit publish.
And that's. it. You sit back, relax, and watch your page views not go anywhere.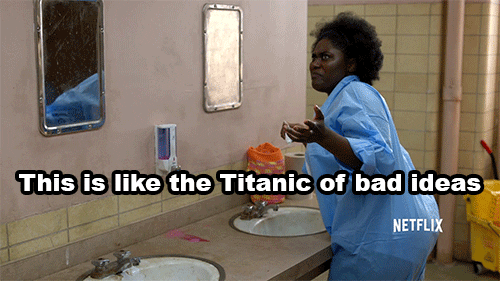 Just because you've created content that may very well be informative and engaging, if you don't put in the extra legwork to actually market your material then there's no way that anyone is going to read it. Some obvious avenues are social media sites such as Facebook, Twitter, Instagram and Pinterest. The avenue you decide to take would depend on the type of product or service you're promoting, and the target audience you're attempting to reach. What works on Pinterest may not work well on other social network such as LinkedIn.
Mistake #2. Not Knowing Your Target Audience
Okay, so you've got a marketable product and you're ready to shove into the eyes of the public. You're kind of strapped for cash since starting a business ain't easy so instead of taking real product shots, you get a stock photo and overlay your catch phrase and "buy now" onto it. You hop on over to Instagram and hit share. The problem is, you're selling shovels and the people likely to buy shovels don't hang out on Instagram, they're searching for the nearest Lowes or Home Depot.
Knowing your audience is a critical step in getting your product or service to sell. Take the time to do the research. Find out your target audiences buying habits, what are their interests & demographics. Simple tools such as Google Analytics can get you valuable information about visitors to your site. Use that information to determine where it's best to place your product, and your money, so you get the most out of your marketing dollars.
If you're a B2B seller, then your audience is probably on LinkedIn. Upload interesting articles or journals to the site, connect with others in your field, follow other companies and see what they're doing. If you sell something as boring as shovels, consider purchasing shopping ads, or Google Display ads. Facebook is a great source to bring awareness to your brand as well.
Mistake #3. Being Too Focused on SEO
But wait, isn't SEO the whole point of everything? Isn't that how you get to the front page? Well....yes. However when you focus too much on SEO during the creation of your content you may come off a bit of a robot. I remember at my previous agency job everyone was so terrified of the Yoast SEO plugin. I'm fairly sure the content writers had dreams about yellow lights that they've strived to turn green. I had to explain to them, at length, that while Yoast is a great tool that can offer you keyword density information, plug-and-play meta descriptions, it is no substitute for the human eye. These content writers were so caught up in having all green lights that they stopped caring about creating actual good content.
Mistake #4. Writing Just to Write
Fresh content keeps the search engines happy, but churning out content with no purpose is not the way to go. Time and time again I've heard that it's best to just have something up there. I also know of people who pay blog writers but don't link to the blogs anywhere on the site and don't promote their blogs because the owner doesn't think the writing is up to par. Now, I'm no accountant, but that seems like a waste of money to me.
Instead of trying to consistently push out content (no matter how frequent it may be) take some time do do research on the focus keywords, use tools like Google Trends to find out what's trending. What questions can you answer for customers that you are frequently being asked? Create long-form content that gives you an opportunity to use a variety of long-tail keywords and touch on multiple subject matters. What use is 1200 words if none of it is engaging? Maybe this process means you're only able to blog once a week, or even just twice a month. That's okay. Consistently putting out quality content will be much more beneficial than the lackluster blogs you have been posting in the past.
Mistake #5. Never Revisiting Older Content
Just because content is old doesn't mean it's not relevant, and if it isn't then it's time to make it so! Yes, going back and adding to pre-existing content can be time consuming, but by re-optimizing your content you're giving it a whole new life that you can promote. What are some ways you can repurpose old content:
Add Videos
Update to new best practices or Google algorithms
Include newer statistics and data
Content marketing is an effective way of engaging visitors. No matter the niche, if you're creating content then this information applies to you. Hopefully you can avoid these mistakes and increase your ROI.